Rabbi Matt Reimer
What does your Jewish Journey look like?
This is one of my favorite questions when I first meet a member or potential member of our sacred Beth David Family. I know full well that every answer is different and very much a work in progress. Beth David is a community that is interested in and devoted to what it means to be a sacred congregation: recognizing that everyone is created b'tzelem elohim (in the divine image,) committed to the work of tikkun olam (social justice and repairing the world,) and warm hospitality. I look forward to dancing with you at your simchas (happy occasions,) holding your hand during times of pain, and being with you to strengthen, support and nurture your personal Jewish Journey.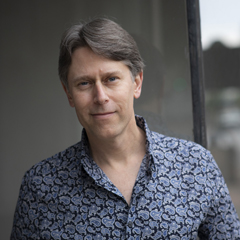 Mark Getten, Cantorial Soloist
I love the supportive warmth between our members
Music plays such an important role in Judaism, and I'm continually gratified to discover new songs and prayers from the bottomless well of our tradition. I love that we are such a musical congregation — just one aspect that makes our synagogue such a special place. Shabbat services are an enriching time to recharge and let go of the week's stresses, and I'm proud of the role I get to play in that process. I love the supportive warmth between our members, which helps make Congregation Beth David the spiritual home that it is.
Student Rabbi Melissa Carp
I'm excited to be returning to my Beth David "home"
I feel honored and grateful for the invaluable time I've spent with Congregation Beth David. This wonderful warm congregation has played such a vital role in my journey towards becoming a rabbi, and I'm excited to be returning. My involvement and the congregation's enthusiasm for learning have made me realize time and time again why I have embarked on this long journey.
Robyn Friedman O'Leary
Temple Administrator
Living Jewishly on the Central Coast
Our Jewish stories may vary, yet we each bring traditions, knowledge, and a love of Judaism to Beth David. Through prayer, song, and learning we make the choice to go beyond being Jewish to living Jewishly. I am honored to be a part of the Beth David family, both as a member and as the Temple Administrator, where everyone has a place at the table. Beth David is not just about worship or programming, it's about the opportunity for personal growth with Judaism and belonging to our Jewish community.
Judy Barclay
Beth David School Principal
I look forward to welcoming your family to ours!
It is my pleasure to volunteer as principal of the Beth David School where students engage with Torah, learn Hebrew, prepare for Bar and Bat Mitzvah, and develop a positive and compelling identification with the Jewish people, the synagogue, and Jewish life. I feel that it is my responsibility to partner with parents, teachers, and our Rabbi to accomplish these goals. We welcome parents to volunteer and actively participate in our program. I look forward to welcoming your family to ours. Please call (805) 544-0760 or email us if you want more information.
Mon, May 23 2022 22 Iyar 5782